In this Facebook and YouTube Live video, I break down how I made $80,000 in two-months with option trading. These are real trades, with the real market, and with real money.
If you are just watching this now, you can certainly post your comments and questions below in the comment box. 
Why I went live with my personal trades
Typically, I do not openly share my trades with the world. We normally find our potential trades inside of Group Coaching within Power Trades University
But I wanted to go live on this video and give you an inside look because there is a lot of hype going on in the market right now, and a lot of people that are getting interested in it. However, a lot of people are getting into it not necessarily the right way. I want to show you real trades within a real account. 
I also give you 3 things you need to know if you are getting into the game, and how to get into it the right way. I show you what is possible out there. Some people can be a bit skeptical when you talk about the types of returns you can get, but I wanted to show you the right way to do it and how it is possible. 
Trade #1 – XLU
The Trade: Option trade with XLU 
Opened the trade: 10/17/17
Closed the trade: 11/09/2017
Cost: $69,203
Proceeds: $96,793
TOTAL PROFIT: $27,590
Return: 39% 
Once you know how to play the game, you can gain these types of returns.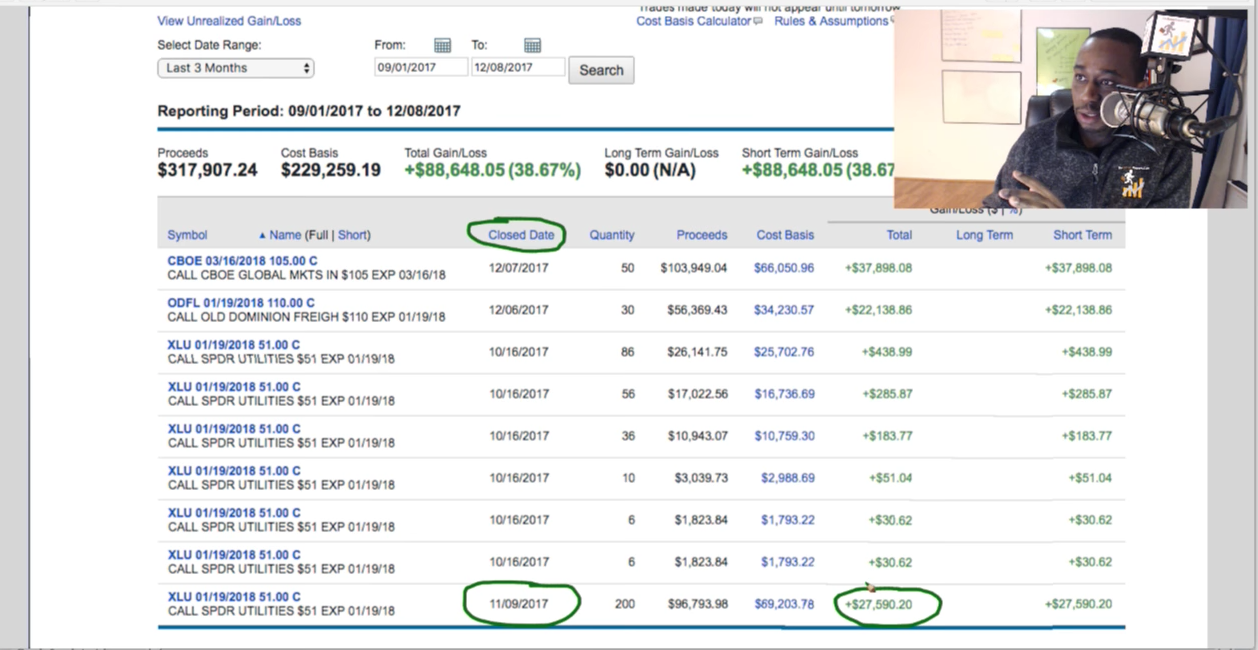 Trade #2 – ODFL 
The Trade: Option trade with ODFL
Opened the trade: 11/14/17
Closed the trade: 12/6/17
Cost: $34,230
Proceeds: $56,379
TOTAL PROFIT: $22,138
Return: 64% 
The reason I like giving the percentages of the return is because you may not be able to put up $34K for a trade, however, whatever you can put up, you can make that 64% return on.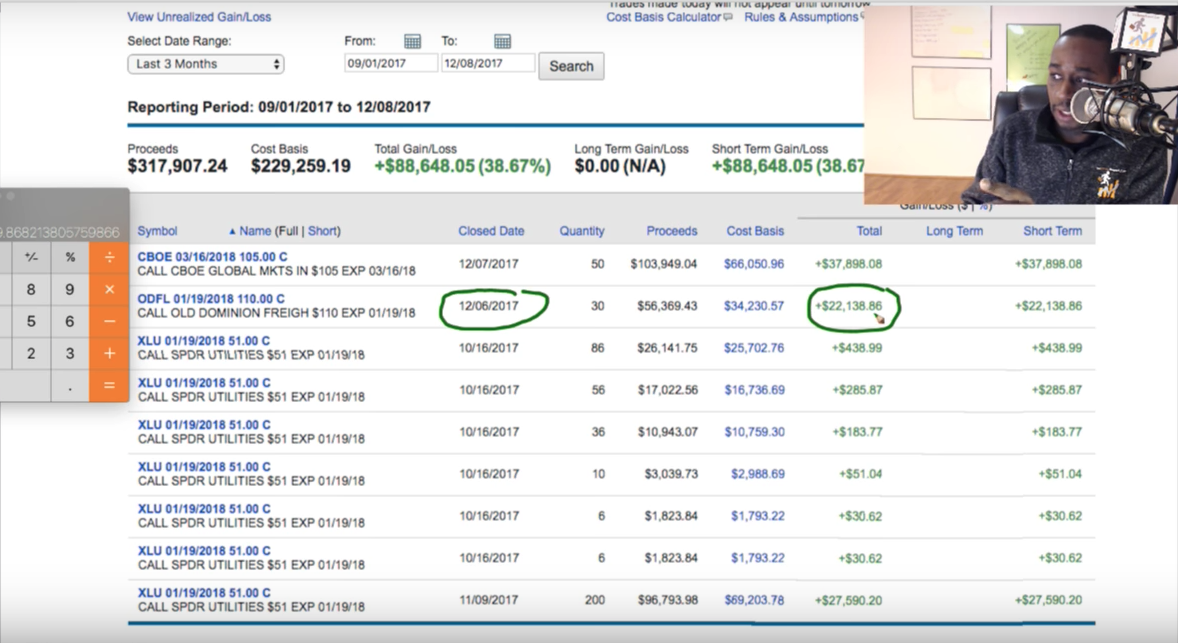 Trade #3 – CBOE
The Trade: Option trade with CBOE
Opened the trade: 11/20/17
Closed the trade: 12/7/17
Cost: $66,050
Proceeds: $103,949
TOTAL PROFIT: $37,898
Return: 57%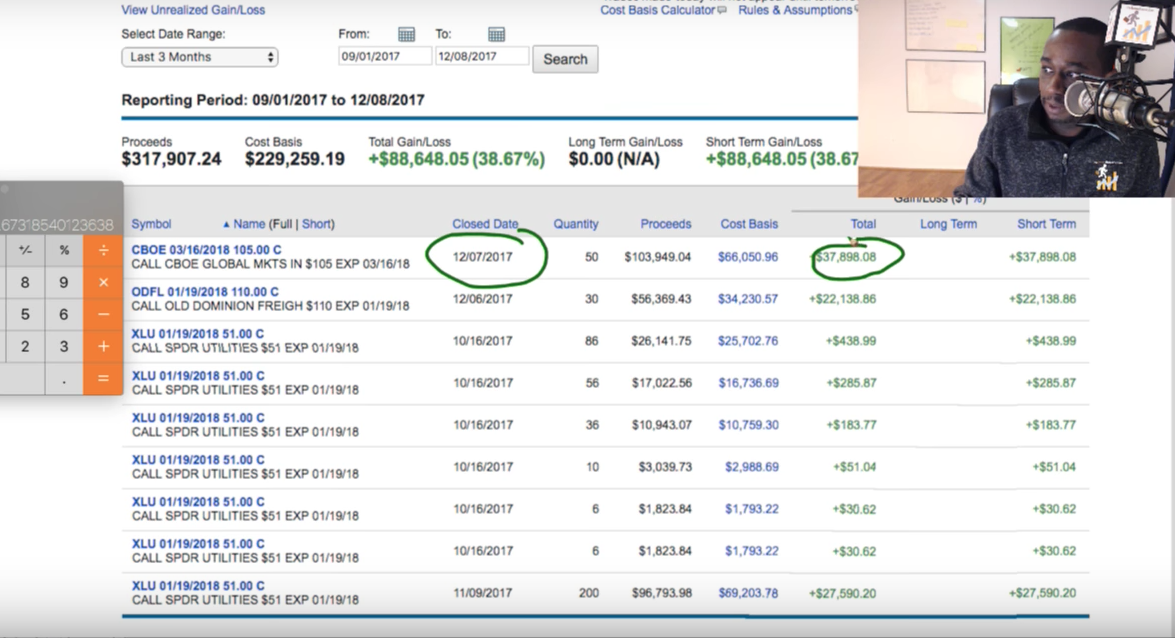 What You Need To Learn:
Know how to read charts

Determine the best times to buy and sell

Using option trading to exponentially grow 
Why I Picked These Trades
You do not get these types of returns by gambling – you need to have strategy and technique.
Trade #1 – XLU Trend Trade 
As you can see below, we noticed in XLU that the chart had a trending pattern. So we purchased at support and sold at resistance.
In these trades, I was able to option trade which was a lot less expensive, not pay $55 a share.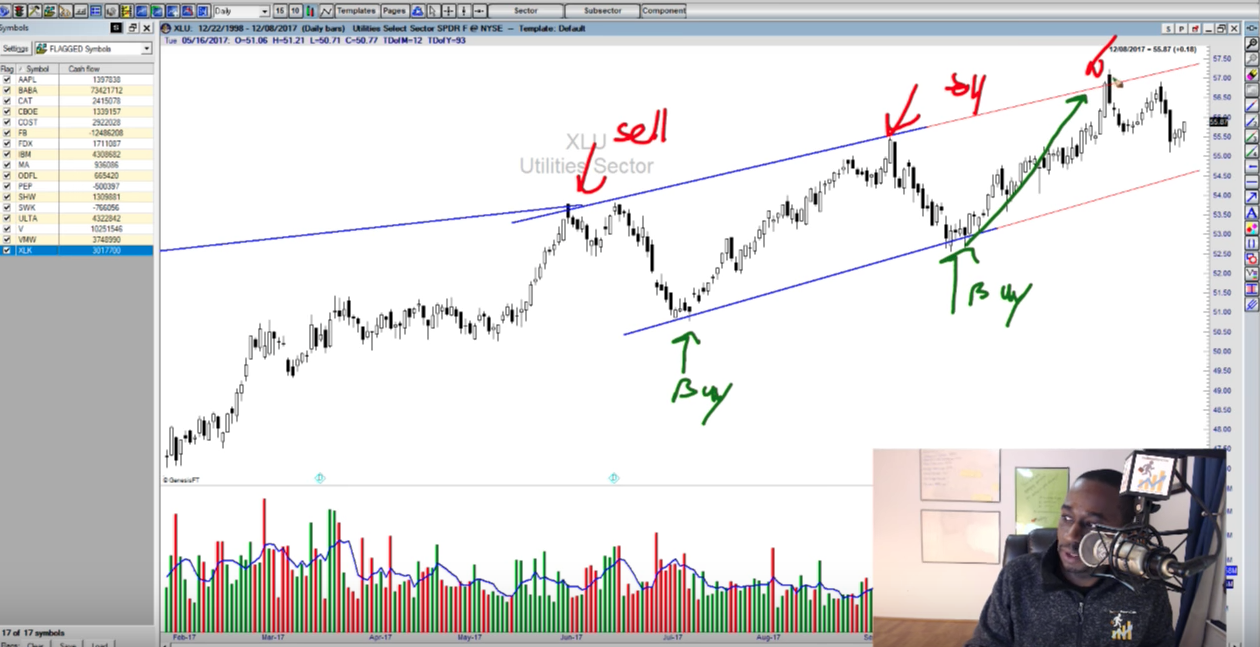 Trade #2 – ODFL Flag Patterns 
With ODFL, we noticed that there were a few flag patterns. So we followed the pattern and saw what we saw before. We got in at the pattern, and set an alert if it did not do what we thought it would do. 
We put money to work: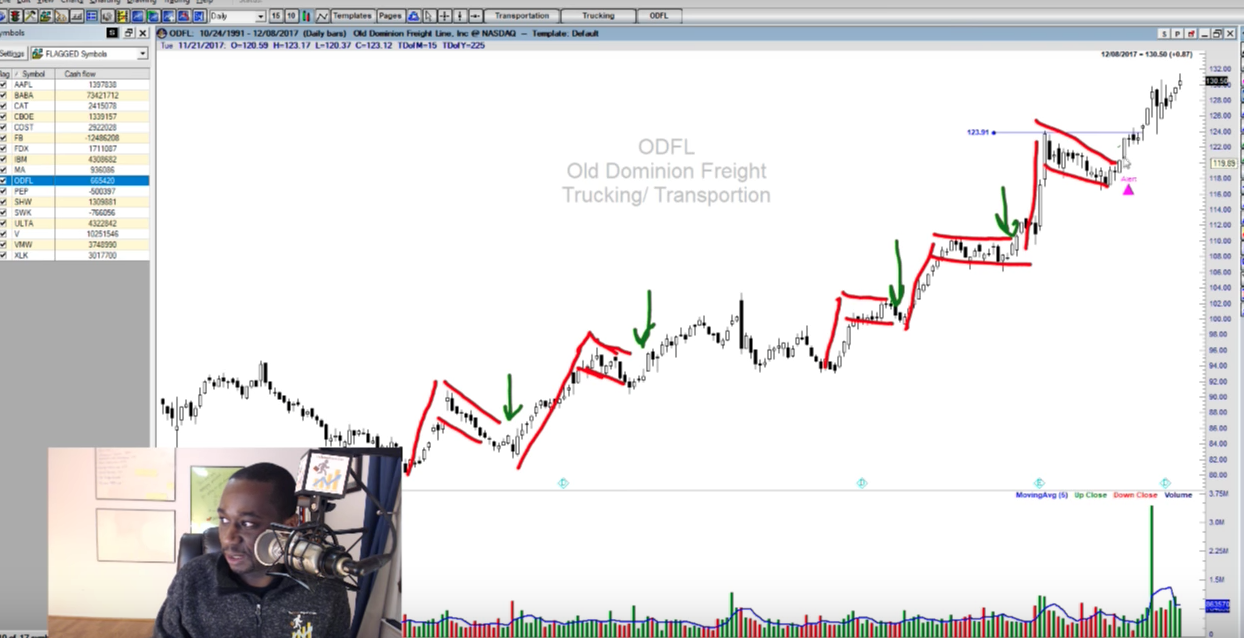 Trade #3 – CBOE Uptrend
We put some options to work in CBOE because of the obvious uptrend. We were confident that we could get in and the trend would continue for at least a week or two. It was bouncing off of the 10-day Moving Day Average.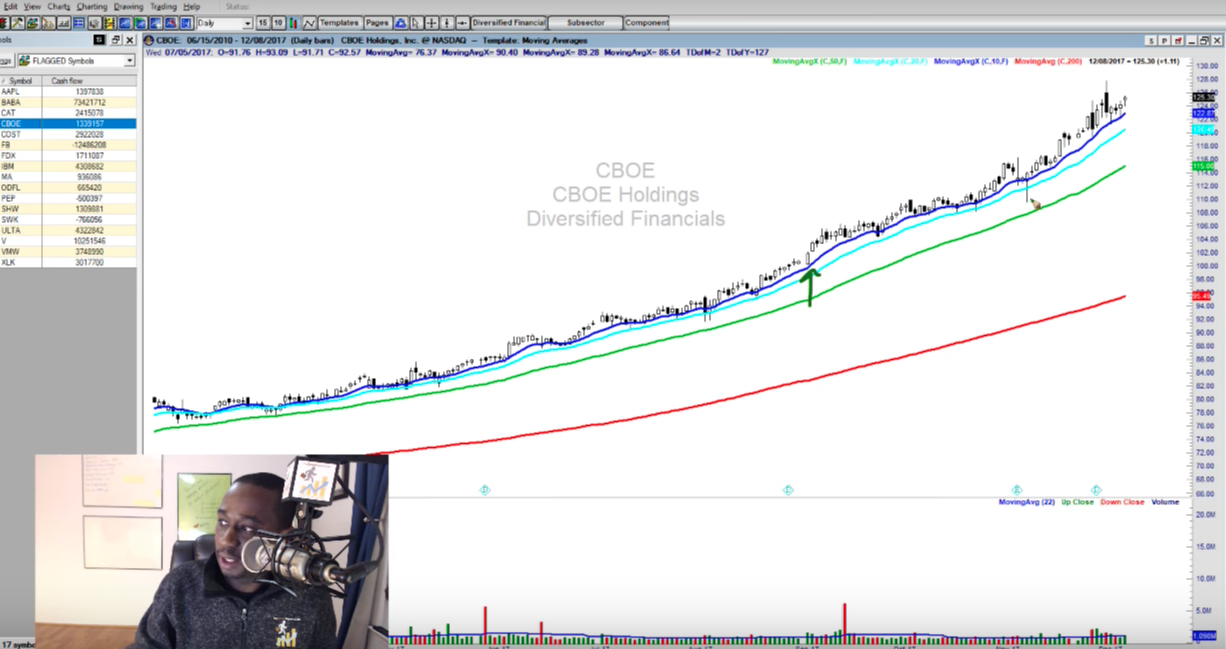 Those are the 3 trades in the real market that made about $80,000. People do not know about the market… some are talking about Bitcoin, etc. But what I am here to ask is: Are the people giving you advice who are actually trading in the market or did they get on the hype trade? Can they explain to you why they got in that trade? Are they getting 40, 50, 60% returns and can explain why? Are they bringing analysis to their trades? 
There are two free absolutely free webinars that you can check out: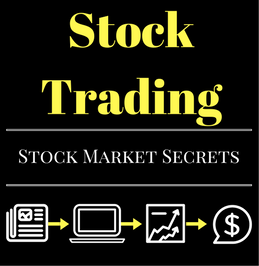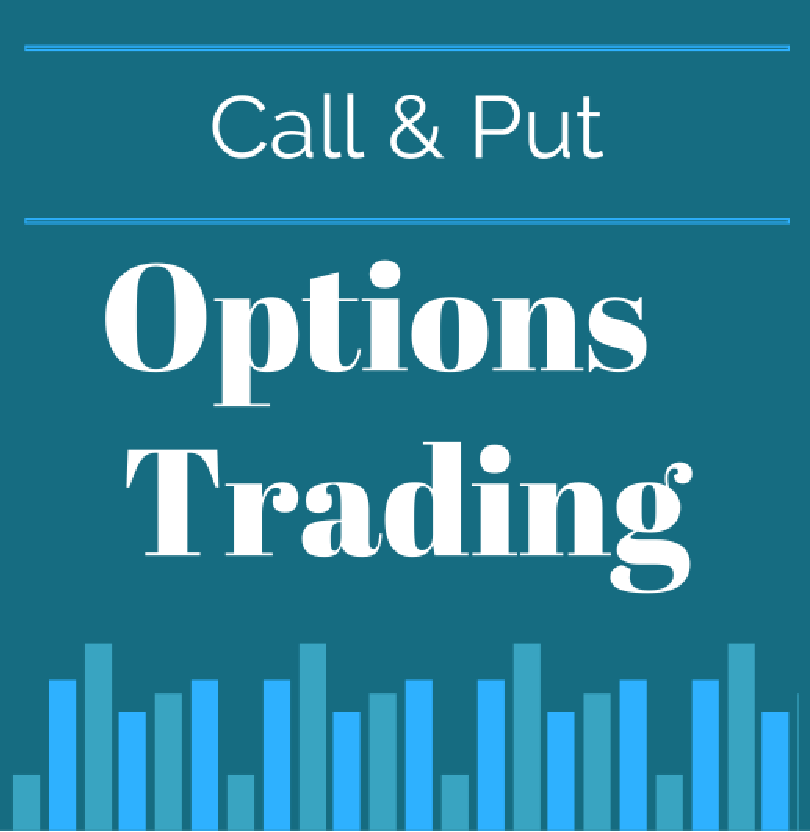 Stock Market Secrets will break down how to get started in the industry, and Power Trading with Options show how you can leverage small accounts and use strategies in any type of market – whether it is up, down, or sideways. 
That is what you want to do: you want to be in this game with true probability and statistics with a defined game plan to trade. 
Please feel free to comment below, or check out the free webinars above.